Vita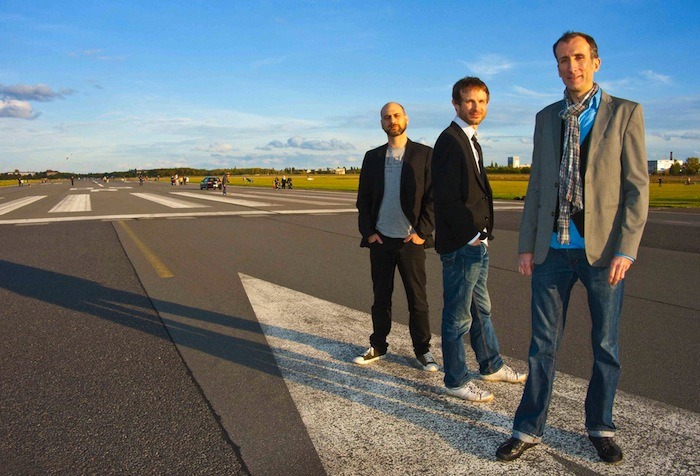 Berlin Tempelhof
Lionel Haas was born on December 27, 1971 in Bonn, Germany. He had his first piano lesson at the age of 9 and developed an interest in jazz, blues and rock at an early age. Lionel's first formal study of jazz was during a series of jazz workshops at the Richmond College near London, UK, at the age of 13 to 15.
During his four-year stay in the US, he became increasingly involved in the Washington jazz scene and was frequently booked for gigs at restaurants, hotels and clubs. To advance his musical development, he attended some summer clinics at the Berklee College of Music. For his activity in the big band at Georgetown University, where he was studying, he was recognized with an honorable mention as "Outstanding Contributor for Fine Arts." Lionel was also part of the renowned Washington- based traditional jazz youth band, the Federal Focus Jazz Band, playing not only in clubs and festivals but also at government functions, including the White House and Senate Buildings. The band also released several CDs. Lionel participated in the 1994 release Renewing the Tradition, Vol 2.hi
Back in Germany, Lionel Haas was a founding member of Blues by Five, a successful blues band in Bonn which is now known as Back to Back. He was active in groups such as the Bonn- based Swing'n'Tonic Jazz Band and was also the pianist for a Cologne- based Voices of Praise Jubily Gospel Choir.
In late 1998, he met Jamaican saxophonist and composer, Fitz Gore who became his mentor and who played a considerable part his growth as a jazz pianist. He released his first own CD, Breaking Free (and a Tribute to Fitz Gore), which includes original compositions as well as his own arrangements of some of Fitz Gore's music.
He moved to Berlin at the end of 1999 where he began making a name for himself by performing in Berlin's jazz venues. From 2000 until 2002, he worked part time as Internet Journalist at JazzRadio, Berlin interviewing local and visiting artists and writing features about them.
Lionel Haas has been involved in a vocal jazz sextet formation with singer Yamil Borges since May, 2000, performing in some of the finest Berlin jazz clubs as well as in venues nationwide. The group released its debut CD, Yamil Borges & Friends, berlin at nite, in the fall of 2002.
Since 2001, Lionel has toured with various projects in places like China, Ireland and Switzerland. Recently he has toured in Spain, France and Italy with the renowned blues artist, Big Joe Turner.
He formed the Lionel Haas Quintet in the spring of 2002. It evolved into the sextet formation, BLOWING FRONT in 2007 which features three-horn arrangements of his original compositions in the styles of straight-ahead jazz as well as groove music. Blowing Front won the 2007 Jazz and Blues Award competition.
The Lionel Haas Trio is his latest project which released the CD "Going and Going" in 2013.
In that same year, he was a founding member of the quartet, Berlin 21, which now has released 2 CDs and, to this day, tours all over Germay.
In addition, Lione Haas works as a supporting artist of various notable band projects around Berlin, further developing his musical versatility.
Né à Bonn, Allemagne le 27 décembre 1971, Lionel Haas avait son premier leçon de piano à l'âge de 9 ans et s'intéressait déjà au styles jazz, blues et rock qu'il commençait à développer dans des workshops à partir de 13 ans.
Il a eu ses premières expériences dans la domaine professionnelle pendant son séjour aux Etats Unis (1991-1995) où il commençait à se produire dans des bars d'hôtels et clubs de jazz.
Lorsque son retour en Allemagne il continuait son chemin musical et participait à des groupes de blues et jazz. A Bonn en 1998 il rencontrait musicien notable, Fitz Gore, qui jouait un rôle considérable dans le développement de son styl et inspirait l'enregistrement de son premier CD, « Breakin Free (and a Tribute to Fitz Gore) »
A la fin de 1999, Lionel déménageait à Berlin où il était journaliste d'internet au radio jazz entre 2000 et 2002 et s'installait comme musicien notable en participant dans plusieurs projets dans Berlin et egalement à l'étranger.
Il formait son groupe « Lionel Haas Quintet » en 2003 qui se transformait en sextet « Blowing Front » en 2007 et recevait le premier prix du concours « Jazz and Blues Awards 2007 ».
Les activités de Lionel Haas les plus actuels: le quartet « Berlin 21 » dont il est membre fondateur, et son propre trio qui en 2013 sortait le CD « Going and Going ».